Profile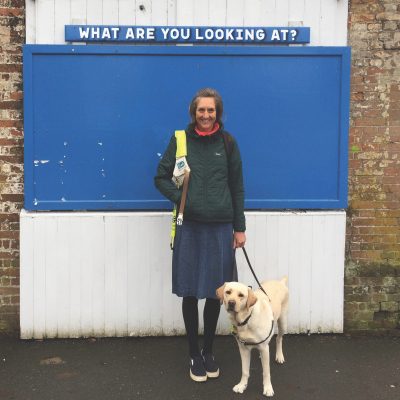 Graduating from Goldsmiths in 1989 Angela Charles (also known as Angela Blackwell) combined her career as a curator with that of a visual artist. Exhibiting nationally and internationally, Angela has achieved commercial success with her paintings drawn from her memories of place.
And yet for the last twelve years Angela has been losing her sight. After a dramatic deterioration over the last four years she is now registered Blind with a condition originally diagnosed as Retinitis Pigmentosa, now referred to as Retinal Dystrophy. Angela felt alone with what she referred to as her 'guilty secret' still painting and exhibiting whilst denying the existence of both her visual impairment and more recently her Guide Dog.
Following much personal turmoil Angela 'came out as a Blind painter' in 2021 after being awarded an Arts Council England grant. This funded a new series of paintings and collaborative works which formed her solo exhibition 'What are you looking at?' As well as a documentary film where Angela confronted her sight loss and its impact on her art with her usual honesty, openness and humour.
Angela's current work may mark a dramatic change in her vision but her paintings have always dealt with memory of place and this hasn't changed, in fact it has only strengthened. However, where once she would have made rudimentary sketches and colour notes whilst observing her environment these new works are instinctive works kickstarted by and relying solely on memories..
A brighter palette and bolder mark making are signs of Angela's deteriorating sight. She continues to paint on spray primed aluminium panels and wooden boards allowing for every mark and texture to be her own. Angela has embraced Assistive Technology to support the creation of these works and without which she would not know which colour was in which paint tube.